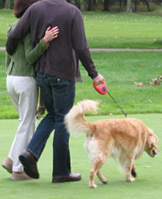 Welcome to Home from Home Essex.
We are the leading dog boarding agency covering Essex including Basildon, Harlow, Chelmsford, Colchester, Southend on Sea and Stansted and the surrounding areas.
Established in 1996, we were the first company in the UK to offer a dog boarding service for dog owners who were wanting to find somewhere private and personal to care for their pets. We are recognised, respected and valued for the service that we offer within the pet industry and by our clients.
Dog Boarding Kennels and dog sitting services can't offer your dog the same round the clock care and attention that a loving family within a private home can provide. Your pet's routine will not be upset by your absence as our loving dog carers will maintain them, so you can have peace of mind and not worry about leaving your pet with us.
To take advantage of the service we provide at Home from Home, we take your dog on long walks and make sure they're having a great time. Please register by clicking the button on the sidebar. This process takes no more than 10 minutes. There are no hidden costs and no extra fees to pay. Please call us on 01932 568584 where one of our dedicated team will be happy to answer any questions you may have.
Please take your time to read through the following pages. If you have any questions, please call Sasha, Lorna, Lynn or Sally on 01932 568584, who look forward to hearing from you.
Testimonials:
We were very pleased with our carer Sue who looked after our elderly Yorkie when we went on holiday in May. Sue was very adaptable to our dog's needs and little ways!
She was well cared for and clearly happy and content when we went to pick her up. Thank you Sue.
Mrs R, Essex - June 2015