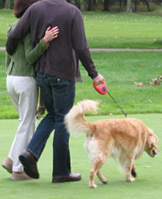 Welcome to Home from Home.
Established in 1996, we were the original company in the UK to offer a home boarding service for dog owners wishing to find somewhere private and personal to care for their pets. We are proud to be recognised and respected within the pet industry and by our clients for the service that we offer throughout Bedfordshire and beyond.
If you live in Bedfordshire and you are looking for a warm, friendly and caring home for your dog to stay whilst you are away, then you have come to the right place! We are the leading dog boarding agency covering Bedfordshire including Luton, Leighton Buzzard, Dunstable, Biggleswade and Bedford and the surrounding areas!
We know how hard it can be leaving a beloved pet behind whilst you go off on your travels, so our aim is to introduce you to the most ideal carer for your dog. We offer a high quality personalised service which is totally unique. Your booking is made to your specific requirements to ensure that your dog's needs are fully considered, so that you can enjoy your time apart without any worries. You will meet your carer before your holiday, so you will be able go away with confidence, safe in the knowledge that your dog is in good hands.
With Home from Home there are no hidden costs, no extra fees to pay and registration is free. You can call us on 01932 568584 where one of our dedicated team will be happy to answer any question you may have. Or alternatively, please click on the button on the side panel and proceed to register.
Please take your time to read through the following pages. If you have any questions, please call 01932 568584, we look forward to hearing from you.