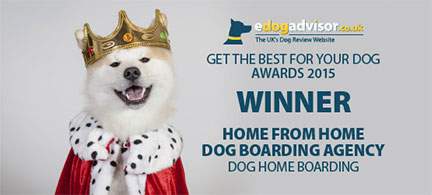 This year is going to be our 20th birthday. We've been placing much-loved dogs in carefully selected family homes since 1996. We see this as a great achievement for everyone that has been involved with Home from Home since day one. We were the first dog boarding agency in the United Kingdom.

We have been voted No 1 Home Boarding Company in the UK by eDogAdvisor.co.uk. Of their users, 97% rated Home from Home as excellent or very good and we secured top prize for the UK overall. With over 27,000 clients, we have 400 carefully selected carers to offer an industry leading, one-to-one service so your dog will receive complete and undivided attention.
In our 20 years, we have learnt what our clients' needs are and guarantee the following when your dog is placed with us:
All our carers are fully insured.
Our carers receive full support 24 hours per day, 7 days a week
Our clients meet thier carer with their dog prior to booking starting
No pre-school children in family
Vet approved and recommended
In our 20th year we would like to celebrate it with you so please come and join the premier dog boarding company by registering for FREE and let us be of service to you and take care of your dog.